In a career that has spanned over 30 years, Connie Stevens has gained worldwide popularity and recognition as a multi-talented performer, producer, motion picture star, television star, boadway star, recording artist and most recently has experienced phenomenal success in the business arena with a successful cosmetics empire.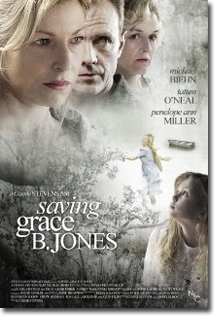 Saving Grace B. Jones
Director: Connie Stevens


Writers: Connie Stevens, Jeffry Elison


Stars: Tatum O'Neal, Michael Biehn and Penelope Ann Miller...


In a 1950s-era Missouri town the life of a couple is thrown into chaos when the husband's sister is released from the local asylum and comes to live with the family.
Read more...
In Theatres Soon
---
FILM
Young and Dangerous (1957)
Eighteen and Anxious (1957)
Dragstrip Riot (1958)
Rock-A-Bye Baby (1958)
The Party Crashers (1958)
Parrish (1961)
Susan Slade (1961)
Palm Springs Weekend (1963)
Two on a Guillotine (1965)
Never Too Late (1965)
Way...Way Out (1966)
The Last Generation (1971)
The Grissom Gang (1971)
Scorchy (1976)
Sgt. Pepper's Lonely Hearts Club Band (1978) (Cameo)
Grease 2 (1982)
Back to the Beach (1987)
Tapeheads (1988)
Love Is All There Is (1996)
Returning Mickey Stern (2002)
TV
Hawaiian Eye (1959–1963)
Maverick (1959)
Wendy and Me (1964–1965)
The Littlest Angel (1969)
Mister Jerico (1970)
Call Her Mom (1972)
Playmates (1972)
Every Man Needs One (1972)
The Sex Symbol (1974)
The Muppet Show (Episode 102) (1976)
Love's Savage Fury (1979)
Scruples (1980) (miniseries)
Murder Can Hurt You (1980)
Side Show (1981)
Starting from Scratch (1988–1989)
Bring Me the Head of Dobie Gillis (1988)
James Dean: Race with Destiny (1997)
Becoming Dick (2000)